The first screen you will see when starting your setup will ask you to confirm (if this is the first website you register) or to enter your website's IP address. If you do not know it, please go to http://ip-lookup.net/domain.php and enter your website name to receive the IP address. It will be formed by four numbers separated by dots, e.g. like this: 173.254.238.77
When you have entered or checked your website's IP address, click "Save IP".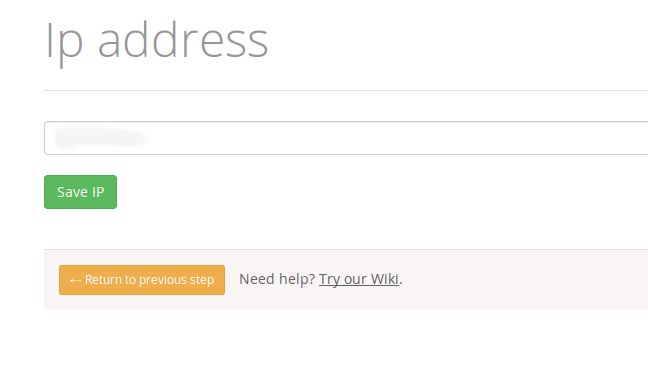 At this point, the Deflect system has located your website's DNS settings. They will be shown on this screen for you to edit and confirm. Please make sure that all relevant DNS records are represented. Even though every domain will have their own records, here is a short explanation.
A website.com 129.128.127.210 -> this is the main record for the domain, also referred to as the origin IP or root record
CNAME www website.com -> this is usually an alias (CNAME) allowing people to type www.website.com and get to your site
MX website.com mail.website.com -> this record is for email (MX), e.g. user@website.com
A mail.website.com 129.128.127.210 -> this record allows email delivery to your server. It is connected with the MX record above
NS ns1.website.com -> nameserver for your domain. You can leave this record as is
TXT website.com 'This is a test' -> sometimes a text record (TXT) is appended to a domain. You can leave this as is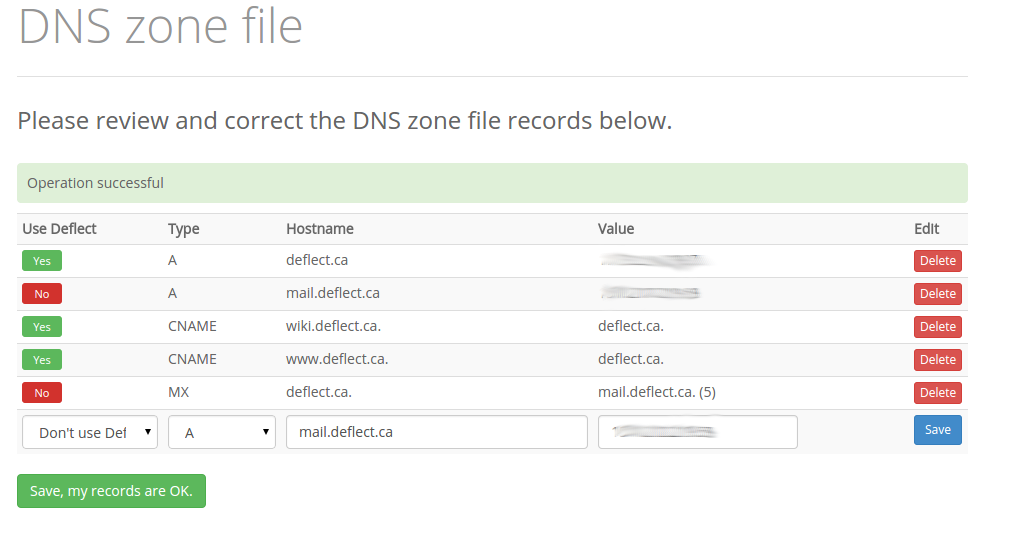 DNS settings
Our system has been pretty good in correctly identifying your website's DNS records. However its always advisable to check your DNS zone records to see if something is missing or incorrect and add or edit any settings. When you're happy that everything is correct, press the Save, my records are OK button to proceed to the next step.
Important
For every subdomain you want protected by Deflect that points to a different IP address, please use the 'Add new website' button to register as a separate site.