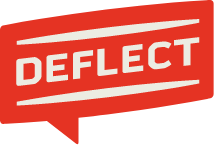 June 01, 2021 – Deflect partners with technology and media groups
Since 2010, Deflect has specialized in protecting online platforms from cyber attacks. Today, our mission and time-tested tooling reaches further and wider than ever before! We are honoured to announce strategic partnerships with well-known Internet Service Providers and digital media entrepreneurs in the Americas and Europe. Our combined service offering includes all manner of web hosting and online collaboration platforms, technical consultancy and web security services. With over a hundred years of collective technology expertise and a dozen common languages between us, this is a partnership that will serve a global clientele and meet the challenges of shrinking online spaces for expression and self-determination.
Our mission is strengthened through this mutually beneficial partnership. We stand together, stronger and ever more resilient, to protect our clients' platforms with ethical technology solutions, multilingual human resources and a common belief in principles before profits.

Dmitri Vitaliev, Founder deflect.ca
Find out more about our partners' individual services and mission from the list below. Check out Deflect's partnership opportunities and write to us!
Colnodo is a non for profit organization working since 1994 providing Internet infrastructure services to activists and civil society organizations. Colnodo's main objective is the access, use and appropriation of information and communication technologies (ICT) for social development, human development and the improvement of people's living conditions through the strengthening of capacities and competencies, education for work, information and knowledge exchange, increased citizen participation, sustainable development and innovation.
Greenhost (Netherlands) is an established infrastructure provider focusing on digital human rights and sustainability. By providing (infrastructure) services to a wide range of organisations supporting human rights, free press and/or censorship circumvention while preserving privacy guarantees. Greenhost makes sure to keep the internet an open and innovative space.
GreenNet (UK) have been networking people and activist groups for peace, the environment, equality and human rights since 1986 – providing internet services, web design and hosting. Our hardware and software choices are based on expert technical judgment, our ecological sustainability and ethical business values.
(Tirana, Tallinn, Worldwide) Cloud68.co provides reliable open source digital infrastructure to for-purpose small & medium teams, organizations and individuals with responsive and friendly support. As a team of long time contributors to digital privacy and open knowledge projects we are committed to help you migrate from big tech as easy as possible.
SembraMedia is a nonprofit dedicated to empowering diverse voices in Spanish media to publish news and information with independence, journalistic integrity, and a positive impact on the communities they serve. They conduct research, provide training, consulting, and financial support to help media leaders develop more sustainable business models in Latin America, Spain, and the U.S. Hispanic market.
At MainMicro, our goal is to ensure customer satisfaction by providing ongoing support and cost effective solutions for our partners. We take great pride in having a customer retention rate that is among the highest in the industry. For us, when you become a customer you also become a friend, and we become the one-stop shop for all of your IT related needs.