A new website creation framework 'Kandinsky' has just been released as a WordPress theme by our friends from «Теплица социальных технологий» (Greenhouse for Social Technologies) in response to needs expressed by civil society groups. The free and open source release on Github offers three templates for installation and guides website creators with helpful tips and check lists. We spoke with Alexey, director of the Greenhouse for Social Technologies about their new release:
eQ: What can you tell us about this new theme?
Alexey: Any organization can use it. It's free and open source. Having said this, it was created with NGOs and public initiatives in mind. It's not just a customizable WordPress theme. It also contains pre-made content created to address typical challenges that NGOs face on a regular basis. In particular, NGOs, at least in Russia, usually have difficulties with composing content. Therefore, Kandinsky not only fulfills the role of a theme but also of a checklist of what content should be on an NGO website. There are three templates for different use cases (soon, however, we plan to use only one but greatly improve its ability to be customized). Each template contains test content (news, reports, teams, photos from events, description of activities). Based on NGOs' best practices, we've invented three non-existent organizations in order to fill these templates with content that makes sense in the NGO context.
eQ: What motivated you to create it? Was there a real-life use case that drove this initiative?
Alexey: The need came from our own experience – as an organization we help NGO's with digital communication and we needed some reliable and modern framework that would be fast and easy to install (now, after 8 minutes, the Installation Wizard has a website up and running). We just wanted to help the organizations have something decent on WordPress and not pay anyone or worry constantly that someone might commercialize the theme. Also, we needed it ourselves for 2 kinds of tasks: side-projects and events. Sometimes we launch a hackathon or a series of online webinars and we wanted a dedicated site – we wanted something that could be set up easily, customizable, and had everything we might need. And so we did it. We adhere to the principle 'eat your own dog food' and any event web page or side event we build now is based on Kandinsky which saves us lots of time and effort. We stopped considering website creation a budget line.
eQ: What are these new features?
Alexey: Originally, key values of Kandinsky were simplicity, ease of installation, and responsiveness to NGO's needs. As we've learned, we realized that aside from being able to install the theme in a few seconds and have plug-ins ready as well as pre-made content, customization is of key importance. People are annoyed having the same Ford Model "T" in any color given it's black, to quote famous inventor Henry Ford. They need to set up a website and then make it unlike any other website in a few minutes.
Therefore, freedom of customization is the most important development line now. In the last year, we've added:
over 100 Google Fonts to choose from
customizable header with the ability to turn on/off different elements inside (logo, phone number, links to social networks, etc.), which creates multitude of different options
customizable footer
Our next milestone is turning the main page of a website to a Gutenberg block editor (now the main page can be freely edited with the help of a less versatile tool) and then – to the new WordPress system called Full Site Editing.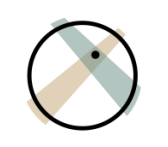 Deflect clients can create a new eQpress site with the Kandinsky theme by going to the 'Hosting tab' in the Deflect Dashboard and selecting to pre-load the installation with this theme.