Traffic & Attacks
Since the beginning of this year, we have served over 2 billion website hits to approximately 18 million unique readers the world over! We mitigated over 30 distinct attacks and kept our clients online 100% of the time! The Banjax bot banning technology blocked 291,898 malicious hits originating from 58,181 zombie bots. Our machine lead anomaly prediction system Baskerville was further able to identify and challenge suspiciously behaving IPs 1,182,084 times out of which only 16,755 proved to be legitimate readers and were allowed to access the requested website. This equates to 98.58% precision – which is pretty good for a machine!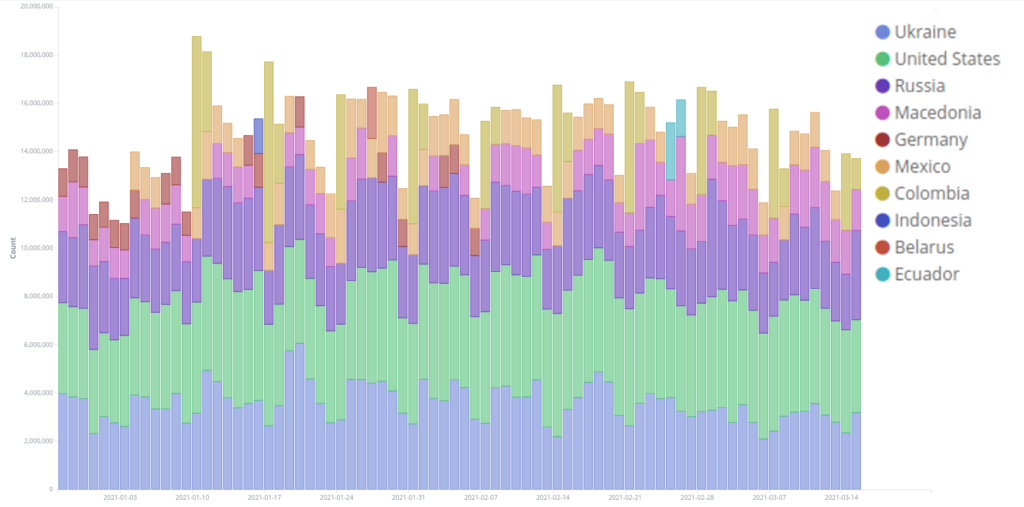 These attacks have helped us confirm that our prior implementation of the Shapley value estimation in Baskerville had lead to positive results. This is a general way to explain the output from the machine learning model by feature importance ranking – to help us decide which feature works best. We used this algorithm to compare an older machine model with a model that uses only the features Shapley values say are important, on a data set that contained the latest attacks. The model with only the most important features outperformed the older model.
Deflect referral program
Financial survival and independence on today's Internet is tough. Big Tech permeates and controls virtually every aspect of our digital experience. When it comes to Internet infrastructure and network services, corporate giants such as Akamai, AWS and Cloudflare dominate the space. These handful of companies have managed to create an ecosystem where they profit from virtually every transaction or advertising campaign. While we choose our destiny as consumers, the growing problem is a lack of choices. One way or another, we are being pushed towards a handful of companies.
We want to do things differently. Our goal is to succeed in lockstep with our clients, not simply profit from them. The Deflect referral program creates a mutually beneficial commercial opportunity – by registering for this program and installing a 'Protected by Deflect' badge on your website with a unique hyperlink, you will receive 50% of the first full month's fees charged to every new client that subscribed from this link. Write to partner@deflect.network if you want to participate in this program or read more about this and other collaborative opportunities on the Partner Programs page.
New Website
You are reading this update on our freshly minted website – powered by WordPress and hosted on the secure eQpress platform. We decided to build it using the default 2020 theme. This code is supported by the WordPress team, built according to best practices. That's important when it comes to running the popular (but often compromised) WordPress platform – the ease of installation for new themes and plugins lowers the barrier for entry and makes it highly functional and customizable. At the same time, custom code developments become outdated, insecure and often lead to website hacking and unintended DDoS attacks. Our set-up configuration comes with the following:
Protection from DDoS attacks and password brute-force
Daily snapshots and differential backup
Long term theme support from WordPress
SEO management, chat support, Matomo Analytics, Polylang translations
Over 25% of Deflect clients also host their website on eQpress. The service is detailed on the eQpress page and you can request it from the Dashboard, or contact us with questions.