Since the beginning of this year, we have served over 1.5 billion website requests to approximately 13.5 million unique readers the world over! We mitigated over 17 distinct and significant attacks and kept our clients online 100% of the time! Our combined bot banning technology (machine lead predictions from Baskerville and confirmed anomalies by Banjax) blocked 5,794,533 malicious hits originating from 1,668,388 zombie bots. That's quite a lot for this early in the season 🙂
Some of the biggest attacks were directed at a Colombian independent journalist website Los Danieles, a Filipino news media Verafiles, a Latin American information agency and an Indian feminist rights portal.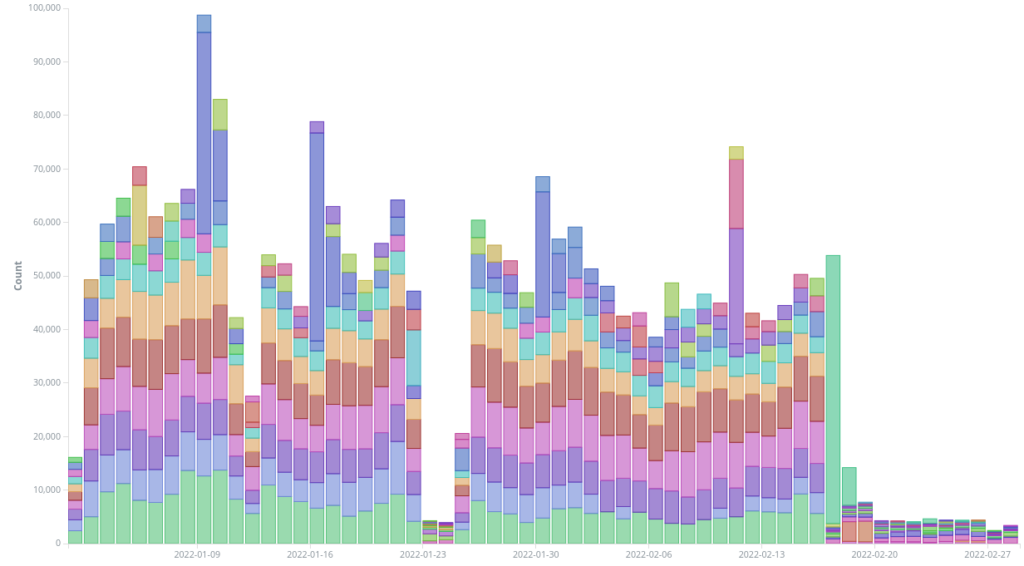 In what is a rather unusual occurence, the deflect.ca website itself was attacked on February 07th. Around 11:00-11:03 GMT+0 about 10,000 unique IPs were sending GET / requests to deflect.ca None of these requests were banned as the attack window was too small. Baskerville worked well in classifying about 5,700 of them as malicious. Some requests returned 502 codes but these were generally malicious requests. eQPress behaved well serving up to 2,620 requests per second on nginx with 5,000RPS to the database and 100 mbps of outgoing traffic. No collateral damage was detected to other eQPress clients. We investigated and improved some of our caching logic as a result of this incident.